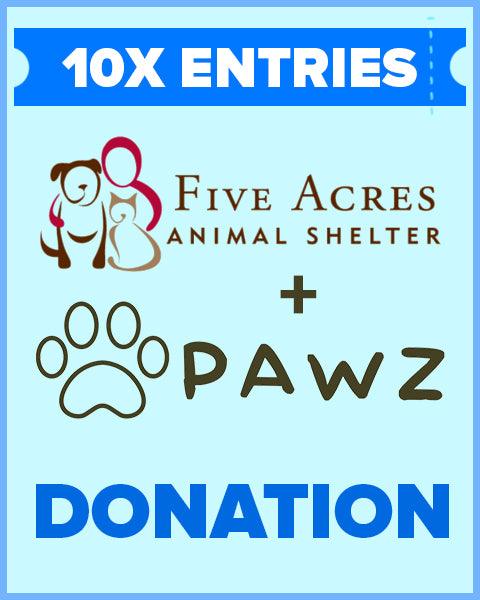 Five Acres Donation
---
"Love this! Fits great and looks great. I will be buying more 😊" - Annabelle S.
Every Order Helps Save Dogs in Need
In stock, ready to ship

Inventory on the way
Here you can donate as much as you would like. 

Bonus you get to 20x entries in winning the Deck Your Dog Out Giveaway with donation only.
So... 

$25 = 500 chances
$50 = 1,000 chances
$100 = 2,000 chances!

And so on!
Donations will go to Five Acres Animal Shelter. 
Five Acres is committed to helping to end pet homelessness, by investing in community programs to keep people and their pets together.
When that isn't possible, we care for animals as the largest no-kill shelter in St. Charles County with a save rate of 98.6% and adopting out over 2,000 animals per year. Support from the community helps us to deliver on our mission: end pet homelessness, promote responsible pet ownership, and advocate for animal welfare.

Five Acres Animal Shelter is a 501(c)(3) nonprofit organization.

Each of our products is prepared for you on demand. This is to ensure we can continue to make the most unique products possible for every dog lover like you.

When you order, we print, package, and ship your custom order usually in 1-2 business days.

This means you get your gear within 3-7 business days on average (Domestic U.S.).
When you shop PAWZ, you do so much more than wear our apparel.

Our mission is to create unique apparel that raises awareness of dog euthanasia and how we can stop it together.

We donate a portion of our profits on every sale to no-kill shelters around the country. Shelters that keep these dogs safe till they can find a new home.

Thanks to customers just like you, we've donated over $300,000 to no-kill shelters across the country!
The Pawz Guarantee promises that if you're not 100% satisfied with your purchase, we will make it right. We stand behind our products and services, and we're confident that you'll love them as much as we do. However, if for any reason you're not completely satisfied, we're here to help.
Our guarantee covers the following:
If your order didn't arrive as expected or was damaged during shipping, we will ship a new one to you at no additional cost.
We offer a 90-day return window for any items that don't meet your expectations. As long as the item is in its original condition, undamaged, and unworn, we will gladly accept returns or exchanges to ensure you get exactly what you purchased.
To initiate a return or exchange, please contact our customer support team at help@pawz.com, and they will be happy to guide you through the process. Our goal is to provide an easy, hassle-free experience for our customers, and we will do everything in our power to make sure you are completely satisfied with your purchase.
Thank you for choosing us, and welcome to the Pawz.com family!
Why help dogs with apparel?

Apparel is a great way to spread awareness about the mission everywhere we wear it and go. Bringing more attention to just how many dogs need our help and hopefully convincing more people to join us on the mission!

Do you have a money back guarantee?

Yes, we have our 100% Money Back "Pawz Guarantee". You can find out more details on the tab above the FAQ tab

Where do you ship from and how fast do you ship?

We ship from our supplier in Michigan. We aim to ship most items within 1-2 days from purchase. Then, depending on the service and conditions it can take up to another 4-5 days to deliver from there.

How do I contact you?

Email us any time at help@pawz.com