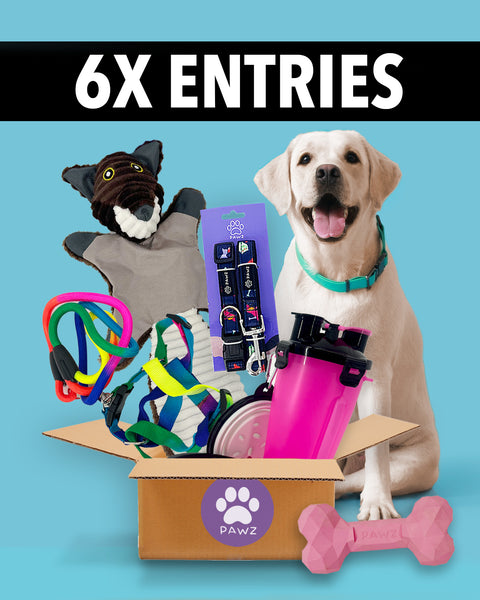 Dog Basket - Medium
---
"Love this! Fits great and looks great. I will be buying more 😊" - Annabelle S.
Every Order Helps Save Dogs in Need
In stock, ready to ship

Inventory on the way
Introducing the Pawz Deluxe Dog Basket – a perfect blend of playfulness and practicality, thoughtfully designed for your beloved four-legged friend. The Pawz Dog Basket isn't just any gift; it's a comprehensive package that promises to bring joy and comfort to your dog's daily life.
Plushie Toy: Cuddle time just got better! Our plushie toy is irresistibly soft and squeaky, making it the perfect companion for your pup's playtime and naps.

Rubber Bone: Designed for durability, this rubber bone is the ultimate chew toy. It's great for keeping your dog entertained while promoting dental health and stress relief.

Leash & Collar Set: Walk in style with our matching leash and collar set. Comfortable for your dog and sturdy for your peace of mind, it's ideal for everyday strolls and adventures.

Rainbow Harness & Leash Set: Brighten your walks with this colorful and secure harness and leash set. It's not only a stylish accessory but also ensures a safe and comfortable outing for your pooch.

Pet Food & Water Travel Bottle with Collapsible Dishes: Hydration and feeding on the go have never been easier. Our travel-friendly bottle and collapsible dishes are perfect for all your outdoor activities with your furry friend.
Why Pawz? At Pawz, we believe that your dog deserves the best. Every item in our basket has been carefully chosen to enhance your dog's life, combining fun, safety, and practicality. Whether you're a new pet owner or looking to spoil your pup, the Pawz Deluxe Dog Basket is the ideal expression of love and care.
Grab your Pawz Deluxe Dog Basket today and embark on a joyful journey with your furry best friend!
Each of our products is prepared for you on demand. This is to ensure we can continue to make the most unique products possible for every dog lover like you.

When you order, we print, package, and ship your custom order usually in 1-2 business days.

This means you get your gear within 3-7 business days on average (Domestic U.S.).
When you shop PAWZ, you do so much more than wear our apparel.

Our mission is to create unique apparel that raises awareness of dog euthanasia and how we can stop it together.

We donate a portion of our profits on every sale to no-kill shelters around the country. Shelters that keep these dogs safe till they can find a new home.

Thanks to customers just like you, we've donated over $300,000 to no-kill shelters across the country!
The Pawz Guarantee promises that if you're not 100% satisfied with your purchase, we will make it right. We stand behind our products and services, and we're confident that you'll love them as much as we do. However, if for any reason you're not completely satisfied, we're here to help.
Our guarantee covers the following:
If your order didn't arrive as expected or was damaged during shipping, we will ship a new one to you at no additional cost.
We offer a 90-day return window for any items that don't meet your expectations. As long as the item is in its original condition, undamaged, and unworn, we will gladly accept returns or exchanges to ensure you get exactly what you purchased.
To initiate a return or exchange, please contact our customer support team at help@pawz.com, and they will be happy to guide you through the process. Our goal is to provide an easy, hassle-free experience for our customers, and we will do everything in our power to make sure you are completely satisfied with your purchase.
Thank you for choosing us, and welcome to the Pawz.com family!
Why help dogs with apparel?

Apparel is a great way to spread awareness about the mission everywhere we wear it and go. Bringing more attention to just how many dogs need our help and hopefully convincing more people to join us on the mission!

Do you have a money back guarantee?

Yes, we have our 100% Money Back "Pawz Guarantee". You can find out more details on the tab above the FAQ tab

Where do you ship from and how fast do you ship?

We ship from our supplier in Michigan. We aim to ship most items within 1-2 days from purchase. Then, depending on the service and conditions it can take up to another 4-5 days to deliver from there.

How do I contact you?

Email us any time at help@pawz.com